SANDS IN THE NEWS FOLLOWING WIN
Tuesday, October 28, 2014
www.Northlandnewscenter.com post fight interview with Al Sands following Saturday nights victory over Andres Taylor...

www.DuluthNewsTribune.com recaps fight...
QUICK RESULTS FROM CARLTON, MN
Monday, October 27, 2014

Photo Courtesy of Mark Walters
Al "The Haitian Temptation" Sands (15-1, 13 KO's) of Duluth picked up a nice win on Saturday night at the Black Bear Casino in Carlton, MN over Andres Taylor (21-7-2, 8 KO's). Sands controlled the better part of the action but Taylor was game, scoring a flash knockdown in the fourth. The biggest thing those in attendance described regarding Sands' arsenal was a slightly different looking jab and overall calmness in the ring that messed with Taylor's timing and piled on points as the bout unfolded. After ten rounds of action, all three judges saw the bout in favor of Sands by scores of 97-92.
Ismail "The Sharp Shooter" Muwendo (16-0, 12 KO's) took out Lowell Brownfield (11-11-1, 4 KO's) in the third round. Brownfield proved to be durable but a knockdown followed by a barrage of punches forced referee Mark Nelson to stop the action.
"Sir" Cerresso Fort (18-3-1, 12 KO's) of Saint Paul stopped Jeremy Marts by way of third round knockout in a middleweight bout.
Nate Rubin (1-0) of Thief River Falls defeated Wisconsin's Erik Vo (0-1) by unanimous decision.
Rubin is a former amateur boxer who has also competed in MMA. Vo is a Mixed Martial Artist who made his boxing debut.
Ramiro Hernandez (2-0, 2 KO's) of Ohio stopped Anthony Dunaski (0-4) of White Bear Lake in the first round.
The Jonathan Perez vs Robert DaLuz bout was scratched prior to weigh ins when Perez was not able to make the contracted weight.
Full Report and Details to come...
SANDS, FORT AND MORE RETURN ON SATURDAY
Thursday, October 23, 214

(Cerresso Fort, Caleb Truax, Rondale Hubbert, Al Sands)

MN Cruiserweight champ Al Sands (14-1, 13 KO's) will take on experienced Pennsylvanian Andres Taylor (21-6-2, 8 KO's) this Saturday night at the Black Bear Casino in Carlton, MN. Sands has been traveling from Duluth to the cities to spar with many different looks including work with Caleb Truax who has a Showtime bout in Chicago next week. Sands will bring his heavy punches to the table against Taylor, who has only been stopped once in his pro career (that coming with 10 seconds left in round 12 of 12). Taylor, 35, had his best and most recent win in August of 2012 against West Virginia's Justin Howes, who Al Sands coincidentally also stopped in 2013.
Saint Paul's "Sir" Cerresso Fort (17-3-1, 11 KO's) is back in action after a short break as he takes on Iowa's Jeremy Marts (12-17, 9 KO's). Marts has seen his share of Minnesota boxers having fought Markus Morris, RJ Laase, David Laque, and Wilton Hilario. Fort vs Marts will be a 6 round middleweight bout.
Ismail Muwendo (15-0, 11 KO's) battles Lowell Brownfield (11-11-1, 4 KO's in a six round lightweight bout. We previewed that bout a few stories below.
Minneapolis's Jonathan Perez (8-0, 5 KO's) is in an interesting showdown with Rhode Island's Robert DaLuz (15-43, 9 KO's). You really need to look at DaLuz's record or see him in action to know that his record doesn't tell the full story. DaLuz travels the world and fights top undefeated prospects for the most part and is hardly ever stopped. He is remembered locally for stopping Allen Litzau in 2007. Perez looks to make a statement as to where he stands along side the highly regarded opponents of DaLuz's past.
Former Minnesota amateur boxer Nate Rueben makes his pro debut against tough and experienced MMA fighter Erik Vo of Wisconsin in the four round opening bout of the evening.

To get an in depth look at the fighters in action...
NOVEMBER 21ST HINCKLEY CARD SET
Monday, October 20, 2014
Robert "Bravo" Brant (12-0, 6 KO's) will headline on November 21st at the Grand Casino in Hinckley, MN. Brant will face upset minded Eric Draper (8-6-1, 3 KO's) of Indiana who is on a five fight unbeaten streak. Brant continues to raise his game with each fight as he has established himself as one of Minnesota's top prospects and Draper has both beaten and lost to good level fighters. A Robert Brant-Andy Kolle showdown was in the cooker briefly and there is a good chance we will see those two square off in the near future. The two will be featured back to back on this show in separate bouts.
Kolle (26-4, 18 KO's) continues his comeback with the goal of getting back into National level fights. The 32 year old Duluth resident is coming off of a unanimous decision victory last March against Ryan Davis. He will face recent Cerresso Fort opponent Dennis Sharpe (17-13-4, 4 KO's) in an 8 round bout. Sharpe can be tricky, especially with adequate time to train like this but will be looking to pick up his first victory since 2005. There again though, Sharpe has lost to some top competitors.
Minnesota Jr. Welterweight champion Rondale Hubbert (7-0-1, 4 KO's) will face local rival Jeremy McLaurin (10-7-1, 5 KO's) in a 135 pound, 8 round bout. This will be without a doubt a fight you will not want to miss. Hubbert and McLaurin have been trading insults for weeks on social media. And they have both been training like animals for the chance to shut the others mouth. This hasn't been your average pre fight talk either. These guys dislike each other with a passion.
Phil "The Drill" Williams (13-6-2, 12 KO's) will take on Wisconsin's Harley "The Sandman" Kilfian (10-15, 8 KO's) in a Cruiserweight bout. This is a fight that has been talked about for years but has not come together until now. Both Williams and Kilfian send word that they are coming to knock the other guy out. Williams destroyed Galen Brown last August and Kilfian is coming off of a fight of the year candidate loss against Al Sands last June in a bout that saw both guys hit the canvas hard.
DeLorien Caraway (3-0, 3 KO's) of Minneapolis tries to continue his impressive showings in the ring against Nebraska's Guy Smith Jr (2-1, 1 KO) in a five round fight.
Duluth's Markus Morris (5-1, 3 KO's) takes on tough MMA/Boxer Nick Compton (1-1) in the nights 4 round opener.
Saint Paul's Antonio Johnson (10-1-1, 5 KO's) has just announced that he will be in action as well with more details to come.
Aaron Green (15-0, 13 KO's) of Minneapolis and Byron Polley (26-17-1, 12 KO's) were set to pick up where they left off last March but Green announced today that he will be unable to box due to injuries that have plagued him for much of his career.
"I want to start off by saying thank you for all of your support. Although my leg is better than it was, it is not to the level it needs to be to be competitive. I will no longer be fighting next month in Hinckley and more than likely I will have to put boxing to the side. It's not been easy making this decision but my health and safety are more important. Thank you again everyone!"
RODRIGUEZ AMONG THOSE HONORED ON OCTOBER 3RD
Saturday, October 18, 2014

Bobby Rodriguez surrounded by family on October 3rd at The Mystic Lake Casino. Photo Courtesy of Bobby's oldest daughter Katy.
Bobby Rodriguez, pictured center and surrounded by family was one of the modern boxers inducted into the class of 2014 MN Boxing Hall of Fame this past October 3rd at the Mystic Lake Casino in Prior Lake.
Rodriguez first gained notoriety in the Golden Gloves as a multiple winner of the Upper Midwest tournament and as a professional compiled a 24-11-2 record with 11 knockouts. He was ranked among the top 10 featherweights in the world at one time. The Western Itasca Review recently published a story on Rodriguez which can be read here...
BIG FIGHT FALLS THROUGH FOR MUWENDO
Monday, October 13, 2014
Ismail "The Sharp Shooter" Muwendo (15-0, 11 KO's) of Minneapolis had his sights set on what would have been the biggest fight of his career on October 25th in Carlton, MN. Former NABO featherweight champion Cornelius Lock's (22-7-2, 14 KO's) manager Brian Cohen contacted Muwendo's trainer Scott Tolzman and asked for the fight, and according to Tolzman, they accepted, only to never hear back.
"Cornelius Lock at 132lbs.-send contract" was what Tolzman says he was sent. Team Muwendo accepted the fight and Jungle Boy Promotions spoke with Locks' manager about details with reportedly no issue with purses. Everything looked set but then communication ceased, with nothing more from Team Lock.
"This along with the local matchups falling apart with Wilton Hilario and Tony Lee has made for a very frustrating year" said Tolzman. "With that said, we are very grateful to Zach Walters and Jungle Boy Promotions and the Black Bear Casino for giving us a venue and stage to perform on."
Muwendo will now face Lowell Brownfield (11-11-1, 4 KO's) of California. Brownfield has made a career of taking on high level fighters on short notice but sends word that he is looking forward to having adequate time to train for the first time in years and is coming to upset the Ugandan born Muwendo.
The full card as it stand can be viewed here...
JAMAL JAMES LATEST TO SIGN WITH HAYMON
WEDNESDAY, OCTOBER 1, 2014
Jamal "Shango" James and his team held a press conference this past Sunday in Minneapolis to announce that he has signed a contract with world recognized boxing manager Al Haymon. James joins Minnesota's Caleb Truax and Javontae Starks who also signed with Haymon in recent months.
"I want to thank everyone who came out last night (Sunday) and those who were unable to but sent there support and well wishes" said James. "Everything I've accomplished is because I had the right people pushing me and pulling me and keeping me on track. I want to thank God first and foremost. My family close and abroad for all the support and those who may not be around as often but still played a role in me getting to where I'm at now."
James, 26, currently holds a professional record of (14-0, 7 KO's) as a pro.
AL SANDS RETURNS TO HEADLINE OCT. 25 CARD
WEDNESDAY, OCTOBER 1, 2014
"The Haitian Temptation" Al Sands (14-1, 13 KO's) headlines on October 25th at the Black Bear Casino in Carlton, MN against Andres Taylor (21-6-2, 8 KO's) of Johnstown, Pennsylvania.
To watch the Duluth WDIO News Interview...
Also on the card, "Sir" Cerresso Fort (17-3-1, 11 KO's) gets back to business against Iowa's Jeremy Marts (12-17, 9 KO's) in a 6 round bout.
Ismail "The Sharp Shooter" Muwendo (14-0, 11 KO's) will box an 8 round bout against an opponent to be named shortly. Muwendo's trainer Scott Tolzman says that the bout in the works would be a huge test for the undefeated Minnesotan.
Saint Paul's Dalton Outlaw (2-0) wastes no time getting back in the ring as he takes on Minneapolis's Joe Amouta (1-1) in a fight that could potentially steal the show.
Finally, Nate Rueben of Thief River Falls, MN takes on Erik Vo of Iowa in both fighters pro debut's.
OUTLAW DEFEATS KESHICK IN DULUTH
THURSDAY, SEPTEMBER 25, 2014

Photo Courtesy of Mark Walters/Jungle Boy Boxing
Saint Paul's Dalton Outlaw outworked Michigan's Lexie Keshick over four rounds of action on Friday, September 19th at Grandma's Sports Garden in Duluth, MN. As usual, Keshick showed up to mix it up in entertaining fashion but Outlaw was too sharp and pulled away on points more and more as the bout went on. Outlaw moves to (2-0) with Keshick falling to (1-3).
28 year old Duarnado "The Storm" Vue moved to (3-0) with a first round knockout win over Wisconsin's Dale Bennett (0-1) in the other pro bout of the evening. Vue took Bennett out with a hard body shot.
BUTLER'S UNBEATEN MMA RECORD SNAPPED ON SPIKE
THURSDAY, SEPTEMBER 25, 2014
Raphael "The Silencer" Butler (8-1-1) suffered his first defeat in the MMA cage on Friday, September 19th against Javy Ayala (8-3) on Spike TV. Butler took a few shots to begin and then landed a shot on the inside that busted Ayala's nose bloody. Ayala then brought Butler to the ground, took his back and sunk in a rear naked choke that forced the Rochester native to tap out. Butler said after that he learned from the mistake and plans to return to the cage soon.
WEIGHTS FROM DULUTH, MN
THURSDAY, SEPTEMBER 18, 2014
Lexie Keshick 165 lbs. vs. Dalton Outlaw 168 lbs.
Dale Bennett: 130 3/4 lbs. vs. Duarn Vue 130 lbs.
Venue: Grandma's Sports Garden, Duluth, MN
Promoter: Jungle Boy Boxing


RAPHAEL BUTLER BACK ON SPIKE TV TOMORROW NIGHT
THURSDAY, SEPTEMBER 18, 2014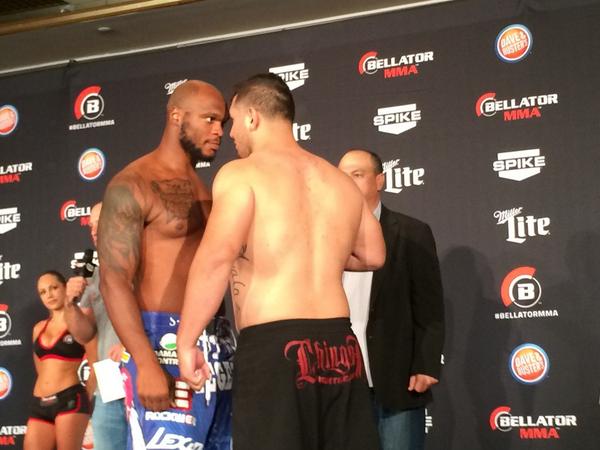 Raphael "The Silencer" Butler will be back on Spike TV tomorrow night fighting for Bellator MMA. Butler currently holds an undefeated 8-0-1 record as a mixed martial artist. The Rochester heavyweight faces Javy Ayala (7-3) in 1 of 4 featured televised bouts. Butler told Minnesotaboxing.com that he has been training rigorously as he's prepared for victory number 9.
"I have been training at Alliance MMA Training Center in San Diego, CA and I've been there since July 8th" said Butler. "I've been training with a lot of fighters that the average fan would know like Phil Davis, Dominic Cruz, Joey Beltran, Jeremy Stevens, and Miles Jury but there are a whole stable of good fighters there.
Javy Ayala is a top prospect according to www.MNMMANEWS.com but Butler is ready to make a statement following a draw in his last Bellator bout.
"I don't know much about my opponent. He was a high school wrestler and he has a couple of good wins in Bellator. None of what he has done or will do matters to me though. I'm here to win."
The action begins at 8pm tomorrow night on Spike TV. You can catch Butler and the rest of the fighters in action as they weigh in live at the following link tonight at 7pm...
COREY THOMPSON WINS MMA DEBUTE
WEDNESDAY, SEPTEMBER 17, 2014
Former Minnesota amateur boxing standout Corey Thompson of Frazee, MN made his mixed martial arts debut on September 6th in Detroit Lakes, MN. Thompson, who's also 1-0 as a pro boxer, defeated Deangel Curtis by majority decision with scores of 28-28,28-27,28-27. Curtis is an mma fighter who is also 1-0 as a pro boxer. Thompson has had limited MMA training but showed good ground fighting skills throughout the bout along with his obvious punching abilities.
OUTLAW, KESHICK HEADLINE PRO-AM NEXT FRIDAY
SUNDAY, SEPTEMBER 14, 2014
Element Boxings Dalton Outlaw (1-0) of Saint Paul will battle Michigan's Lexie Keshick (1-2) in the professional boxing main event portion of a pro-am on Friday, September 19th at Grandma's Sports Garden in Duluth. Outlaw will have Minnesota boxing hall of famer Will "Steel" Grigsby in his corner as he looks to pick up his second win as a professional. The 21 year old Keshick is never in a boring fight and promises to bring his best back to Minnesota. Wisconsin's all action lightweight Duarnado Vue (2-0) is also in action in the other pro fight of the night. Amateur boxing action kicks off the action. "Back to School 2" is promoted by Jungle Boy Boxing. October 25th at the Black Bear Casino in Carlton, MN will be Jungle Boy's next show and features Al Sands in what's being reported as his toughest test along with Cerresso Fort and Ismail Muwendo seeing action as well.

Dalton Outlaw and Lexie Keshick talked about there boxing backgrounds and shared thoughts on the upcoming fight card next Friday. To read what they had to say...
TRUAX SET TO BOX ON SHOWTIME IN NOVEMBER
SUNDAY, SEPTEMBER 14, 2014
Minnesota Middleweight champion "Golden" Caleb Truax (24-1-2, 14 KO's) will be the opening Showtime televised bout on November 1st at the UIC Pavillion in Chicago, Illinois. Truax will face Lynchburg, Virginia's Scott "Cujo" Sigmon (24-5-1, 13 KO's). Truax says he doesn't know a lot about Sigmon at this point but expects a tough fight. " I'm back on Showtime and I'm ready to make a statement" said Truax, who turned 31 years old today.
2014 MN BOXING HALL OF FAME BANQUET APPROACHING
SUNDAY, SEPTEMBER 14, 2014
The 2014 Minnesota boxing hall of fame banquet is fast approaching and takes place this upcoming October 3rd, 2014. This years ceremony will be back at the Mystic Lake Casino and there will be six past MN boxing icons being honored in what will be the fifth year running.
Bobby Rodriguez and Al Andrews are this years Modern inductee's. Jack Gibbons and King Tut were elected from the Old Timers Category. Jim O'Hara and Jim Morgan are the two Expanded Category honoree's. There was no Pioneer selection chosen this year. Caleb Truax will also be recognized for his accomplishments in the ring as fighter of the year and Tony Grygelko was picked by the board as Promoter of the year.
For more information on this year's inductee's as well as ticket info...
STARKS MOVES TO 10-0 WITH ROAD WIN
TUESDAY, SEPTEMBER 9, 2014
25 year old Javontae Starks of Minneapolis stayed unbeated as he picked up win number 10 (7 by knockout) on August 22nd in California against veteran Arturo Urena (20-17). Starks outboxed Urena, putting him down in round three and going on to win by TKO in the following round 4. It was his first fight under manager Al Hayman. Team Starks put together a video of the fight which can be seen below.
FRIDAY NIGHT HINCKLEY, MN PHOTO GALLERY
SATURDAY, AUGUST 25, 2014
Here is a link to the full fight photo gallery from last Friday's action at the Grand Casino in Hinckley, MN. Full report and details to follow...
QUICK RESULTS FROM HINCKLEY
FRIDAY, AUGUST 22, 2014
Rondale "Give Em Hell" Hubbert (7-0-1, 4 KOs) of Moorhead, MN won the vacant Minnesota State Junior Welterweight title with a unanimous decision victory over RJ "T-Rex" Laase (12-2, 8 KOs) in the main event on Friday night at the Grand Casino in Hinckley, MN.
Both fighters traded staggering shots throughout in what turned out to be an exciting fight while the packed arena of just over 2000 people cheered on. Hubbert ran out of his corner at the opening bell and unloaded hard and wild punches that backed Laase up. Hubbert latter explained the strategy, saying that he wanted to show Laase he was there to fight. It was a risky strategy to fight with such reckless aggression on Hubberts part not only to start the fight but as he did many times throughout because of the chance to punch himself out. But it turned out to be what banked him the rounds he won in the end.
Laase stayed calm and weathered the storm. He began to walk Hubbert down in round two, landing hard body shots. The middle rounds were back and forth with what seemed like all power shots being thrown by both men behind the deafening screams around the arena pushing them on. In the end, all three judges scored the bout in favor of Hubbert by scores of (77-75, 78-74, 77-75).
Jamal "Shango" James (14-0, 7 KOs) of Minneapolis, MN defeated Wayne Martell (25-5-1, 15 KOs) of North Dakota by first round TKO in the co-featured bout of the evening in a Welterweight match. James dropped Martell early with a countering left hook to the head. Martell was more stunned then hurt and popped up. Martell attempted to fight back but James was going for the finish. A body shot put Martell down moments later followed by two more quick knockdowns and referee Gary Miezwa stopped the fight at 2:59 of the opening round.
Robert "Bravo" Brant of Saint Paul, MN improved to (12-0, 6 KOs) with a well-deserved eight round unanimous decision victory over Markus Upshaw (17-13, 8 KOs) of Miami, Florida in a middleweight bout. Brant's speed and better combination punching was his key to victory for but as always, Upshaw pushed the hometown favorite to the limit. Scores read 77-75 twice and 79-74 for Brant.
Phil "The Drill" Williams (13-6-2, 12 KOs) of Minneapolis, MN crushed St. Joseph, Missouri's Galen "Bad Boy" Brown (42-28, 25 KOs) in round two. The two cruiserweights didn't throw a lot of punches in the opening round, with both fighters waiving the other in. The slow pace continued into the second with Brown tossing out sporadic pot shot attempts and Williams shoulder rolling his way out of danger while cocking his left out of a southpaw stance. ?Just as the round came to an end, Williams snapped Brown's head back with two right jabs and a power bomb of a left uppercut dropped Brown to his back and across the bottom rope. Brown somehow got to his feet but Gary Miezwa correctly stopped the fight after a brief look at Brown. Official time of the stoppage was 2:59 of the second round.
Jonathan "J-Blaze" Perez (8-0, 5 KOs) swept all five rounds over Antwan "Lil Superman" Robertson (9-10-1, 6 KOs) in a Super Bantamweight bout. Perez spent the entire fight chasing the defensive minded Robertson. Robertson was elusive but threw very few punches in the bout. Perez marched forward, throwing lunging jabs and hooks that scored points in an effort to get a fight started to no avail.
MMA fighter Mark Sainci of Michigan win his boxing pro debut with a third round TKO win over fellow mixed martial artist/ boxer Andrew Selvig (1-4, 1 KO) of Duluth, MN. Selvig was game but completely outgunned by the speed and power of Sainci. Sainci scored a knockdown in the second round with a head shot and a flurry of unanswered head shots in round three brought on the stoppage by referee Gary Miezwa at :49 into the third round.
Joe "The Don" Lorenzi (3-5, 3 KOs) of Duluth, MN avenged a 2007 decision loss to Lucas "The Pit bull" St. Claire (3-5, 2 KOs) with a fourth round TKO in the action packed opening bout of the night. St. Claire fought aggressively and landed some heavy shots to the head and body. Lorenzi was able to take everything St. Claire had though and slowly broke "The Pit Bull" down. An accidental clash of heads in round two shook both fighters and left a gash over the right eye of Lorenzi. ?St. Claire appeared winded from the second round on but still fought on. Lorenzi put St. Claire down twice in the round once with a head shot and the second to the body. St. Claire didn't seem to have much left in his legs from the fast pace and hard shots from Lorenzi heading into the fourth round. Lorenzi weathered one final assault from St. Claire before going on the offensive. Lorenzi dropped St. Claire twice with head shots before referee Mark Nelson waived the fight off.
RONDALE HUBBERT, RJ LAASE INTERVIEWS
FRIDAY, AUGUST 22, 2014
Fight night is here and both Rondale Hubbert and RJ Laase have their sights set on the MN State 140 pound title. Below are interviews with both men done by John D'Auria of "Boxing with the Truth".
RONDALE HUBBERT INTERVIEW...

RJ LAASE INTERVIEW...
STARKS BOXING ON ESPN CARD IN CALI TONIGHT
FRIDAY, AUGUST 22, 2014
Javontae Starks (9-0, 6 KO's) of Minneapolis is boxing on an ESPN televised card tonight in California. It will be his first fight following his signing with famous manager Al Hayman. Starks will face 41 year old Arturo Urena (20-17, 16 KO's).
'My goal is to put the spotlight in Minnesota for winning fighters. I want to do what Caleb (Truax) is doing. And that is bring boxing back to Minnesota" said Starks. "The next fight is the biggest opportunity of my life. I've signed with Al Hayman and it's the first fight under that team. It's on the Austin Trout undercard. I don't know if I will be guaranteed TV time like my last fight which was a swing bout. The fight is scheduled for 8 rounds against a veteran guy. I hear he is very game and tough and has been in there with a lot of great champions. I am going to go in there and get back to the boxing and hopefully get the stoppage victory.
I also want to mention and give credit to my new coach, Brad Laffin. He's a great coach and he's showed me a lot. I look forward to displaying the things we have been working on this Friday night.'
Starks says he could be back in action as early as October.
LORENZI AND ST. CLAIRE READY TO RUMBLE AGAIN
THURSDAY, AUGUST 21, 2014
Tomorrow night's action is set to kick off at 7:30 at the Grand Casino in Hinckley and the opening bout of the evening is one that you won't want to be late for. Duluth's Joe Lorenzi and North Dakota's Lucas St. Claire are set to meet in a rematch cruiserweight bout. The two met in 2007 with St. Claire winning a close decision. To read more...
JAMES FACES MARTELL TOMORROW NIGHT
THURSDAY, AUGUST 21, 2014
Minnesota welterweight champion Jamal "Shango" James (13-0, 6 KO's) will put his boxing skills on display this Friday night at the Grand Casino in Hinckley, MN. The 26 year old James will face North Dakota veteran Wayne Martell (25-4-1, 15 KO's) in one of the nights featured bouts. James nearly stopped tough Indiana boxer Angel Hernandez last March in Hinckley, busting him up along the way and scoring a near shutout victory. James shared his thoughts on the Hernandez fight and what he is looking to do in the near future...
JAMES, BRANT FEATURED ON EASTSIDEBOXING
WEDNESDAY, AUGUST 20, 2014
www.EASTSIDEBOXING.COM - Friday Night's card at Grand Casino Hinckley, where another sold out crowd is expected, will feature a handful of the most talented prospects the state of Minnesota has produced in several years.
In the night's first featured bout Robert "Bravo" Brant (11-0 6 KOs) of St. Paul, MN will look to keep his undefeated record intact and his momentum growing as he takes on the toughest opponent of his career in battle tested veteran Marcus Upshaw (17-12-2) of Miami, FL in an 8 round middleweight bout.
The night's co main event will feature the sixth appearance at Grand Casino Hinckley for Minnesota fan favorite and welterweight champion Jamal "Shango" James (13-0 6KOs) of Minneapolis, MN. James, who is widely considered one of the best prospects in the Midwest, will be taking on North Dakota's experienced veteran Wayne Martell (25-4-1) in a 10 round welterweight bout. To read more...
WDIO NEWS INTERVIEWS JOE LORENZI, RJ LAASE
MONDAY, AUGUST 18, 2014
By: Eyewitness Sports, Duluth, Minn. - People utilize the weekends to rest and relax, but RJ Laase isn't most people. The pro boxer from Duluth has his eyes on the Minnesota State Junior Welterweight Title.
The owner of Lorenzi's Boxing Gym is also on Friday's card and for Joe 'The Don' Lorenzi, its about the number three. He is looking to extend his winstreak to three straight and his family is now at three as he and his wife Carrie welcomed their baby daughter Nora into the world about seven months back...
PHIL WILLIAMS FEATURED IN HINCKLEY THIS FRIDAY
MONDAY, AUGUST 18, 2014
Phil "The Drill" Williams (12-6-2, 11 KO's) will be making his 8th appearance at the Grand Casino in Hinckley, MN this Friday night. Williams will be moving back up to the Cruiserweight division as he faces Saint Joseph, Missouri's Galen "Bad Boy" Brown (42-27-1, 25 KO's) in an 8 round bout. MinnesotaBoxing.com caught up with Williams last week at the Uppercut Gym to discuss his last Minnesota bout against Derrick Findley, and his decision to move back up to the weight that saw him crush opponents at...
LAASE/HUBBERT PROMO, PLUS FOX 21 NEWS VIDEO
FRIDAY, AUGUST 15, 2014
The State Jr Welterweight belt (shown above) has arrived at the promoter's office and will be claimed on August 22nd in Hinckley by either RJ Laase (12-1) or Rondale Hubbert (6-0). Fox 21 News Duluth and On Point Productions each recently video previewed the showdown and both can be seen below.
• Fox 21 News Inverviews Duluth's RJ Laase and Joe Lorenzi
• Highlight Promo Video By On Point Production
STACKED CARD AUG. 22 IN HINCKLEY APPROACHING
SUNDAY, AUGUST 10, 2014
Minnesota's next pro boxing show is less then two weeks out and it's a good one. The show is headlined by the vacant MN state jr. welterweight showdown between Duluth's RJ Laase (12-1) and Rondale Hubbert (6-0-1) of Minneapolis.
Jamal James (13-0) is coming off an impressive performance in Hinckley last time out and faces North Dakota's Wayne Martell (25-4-1).
Robert Brant (11-0) is also coming off a great showing in Hinckley and takes on determined and upset minded Marcus Upshaw (17-12-2).
Phil Williams (12-6-2) returns to the cruiserweight division where he did damage to opponents in the first half of his career against Galen Brown (42-27-1).
Joe Lorenzi (2-5-1) and Lucas St. Clair (3-4) will battle it out in a long awaited rematch bout also at Cruiserweight.
Minnesotan's Jonathan Perez (7-0) and Antwan Robertson (9-9-1) will meet in a 5 round super bantamweight bout.
Carl Deaton (1-1) and Andrew Selvig (1-3) will open the night in a four round welterweight fight.
Full fight preview and interviews to follow so stay tuned.
TONIGHTS MYTH NIGHTCLUB FIGHT CARD CANCELLED
FRIDAY, AUGUST 8, 2014
It was announced yesterday that tonight's pro boxing show to take place at the Myth Nightclub in Maplewood has been cancelled. Seconds Out Promotions released the following statement...
"We regret to inform you Fight Club at Myth this Friday has been cancelled. In preparation for the fight we had a number of fighters become injured. One of which was our main event. As a result, we do not think it is safe for the fighters to proceed, nor do we think it is fair to the fans to put on a less than great event. Seconds Out Fights is one of the states most prestigious boxing event promotors. The reputation of our fighters, events, sponsors, and ultimately ticket holders is on the line each and every time we put on a fight. For this reason, we feel we must cancel the event.
Anyone who purchased tickets will be refunded 100% of the ticket price within 5-7 business days. There is nothing you need to do to obtain a refund."
TONY LEE HEADLINES THIS FRIDAY NIGHT
WEDNESDAY, AUGUST 6, 2014
Minnesota State lightweight champion Tony "2 sharp" Lee headlines this Friday night at the Myth Nightclub in Maplewood, MN. Lee will face Lowell Brownfield of California in an 8 round bout at 135 pounds. Interview with Tony Lee to come.
Also, Nate Richardson of Coon Rapids takes on Zach Cooper in a 6 round jr. middleweight bout.
Deangelo Curtis and Joe Amouta mix it up in a 4 round bout at 168 pounds.
John Moxey and Nate Rosa start the night off in a 4 round heavyweight bout.
Wisconsin's Andre Sherard is also scheduled to box against an opponent to be named.
RODRIGUEZ PICKS UP BIG WIN IN CARLTON
WEDNESDAY, AUGUST 6, 2014
Corey Rodriguez was victorious over Brandon Quarles in the 8 round main event on Saturday, August 2nd at the Black Bear Casino in Carlton, MN. Rodriguez's relentless pressure and accurate punches were the difference in the fight although Quarles did well boxing, moving, and landing solid shots of his own particularly in the early going. Scores read 78-74, 77-75, 78-74 all in favor of Rodriguez.
Ismail "The Sharp Shooter" Muwendo won an 8 round unanimous decision over Robbie Cannon in the co-featured bout of the evening.
Benito Tovar shocked Markus Morris, winning a decision in front of a pro Morris crowd.
Dalton Outlaw, co owner of Element boxing in Saint Paul, won his pro debut over Catlyn Little Eagle by way of 4 round unanimous decision.
Duarn Vue won a unanimous decision over Jacob Fox by scores of 38-38, 39-37, 39-37
Ramiro Hernandez won his pro debut with a second round stoppage over Brandon Cluever in the opening bout of the evening.
To read the full photo recap of the nights action...
MUWENDO, MORRIS IN THE NEWS
FRIDAY, AUGUST 1, 2014
Ismail Muwendo of Minneapolis and Markus Morris of Duluth are both scheduled to be in action tomorrow night at the Black Bear Casino in Carlton, MN. Fox 21 News spoke with Muwendo and WDIO News featured Morris. Visit the links below to watch the video.

• Fox 21 News Interviews Ismail Muwendo
• WDIO Interviews Markus Morris
ROBERTSON BOUT CANCELED IN NEW YORK
THURSDAY, JULY 31, 2014
Antwan Robertson and Elton Dharry's bout scheduled to take place tomorrow night in Queens, NY, has been cancelled. The New York boxing commission was forced to cancel the show because it did not meet the minimum rounds required by the NY boxing commission due to various reasons. Robertson and his manager John Hoffman say they were informed of the news at the commission's office Wednesday afternoon. Following the fall out of the fight, Robertson's team is negotiating to box on August 22nd in Hinckley, MN. To read the full story...
RODRIGUEZ, MUWENDO HEADLINE THIS SATURDAY
WEDNESDAY, JULY 30, 2014
Jungle Boy Promotions will feature a double main event this Saturday night at the Black Bear Casino in Carlton, MN. Newly crowned MN jr. middleweight champion Corey Rodriguez (11-3, 4 KO's) will face off against Virginia's Brandon Quarles (13-2, 5 KO's). Rodriguez was set to defend the title against Charles Meier but Meier injured his elbow last week while sparring and was forced off. Quarles was originally set to fight Cerresso Fort but Fort fell off the card with a hand injury. Negotiations were successful in bringing the 8 round bout between Rodriguez and Quarles together.
Also, Minneapolis "Sharp Shooter" Ismail Muwendo gets back into the ring to face tough as nails Missouri boxer Robbie Cannon. Muwendo's was set to fight Wayne Martell last May but Martell was a no show for the fight. Muwendo has had tough luck securing opponents but there is no doubt Cannon will be ready, having faced locals Gary Eyer, Jeremy McLaurin, and Tony Lee. The rest of the nights action is as follows...
Markus Morris 5-0 3KO vs Benito Tovar 3-1-1 3KO
Duarn Vue 1-0 vs Jacob Fox 2-2 1KO
Dalton Outlaw 0-0 vs Catlyn Little Eagle 1-0
Julio Garcia 0-0 vs Dale Bennet 0-0
Ramiro Hernandez 0-0 vs Brandon Cluever 2-2
Visit www.Duluthboxing.com HERE to read the official press release
TRUAX SCORES BIG WIN OVER ENNIS
SATURDAY, JULY 26, 2014
Minnesota's "Golden" Caleb Truax (24-1-2, 14 KOs) won a decisive unanimous decision over Derek Ennis (24-4-1, 13 KOs) of Philadelphia, PA. last night on ESPN. Scores were 97-93, 97-93 and 99-90. Truax pressed forward and was able to take away Ennis's boxing ability and counter punches by landing powerful punches before smothering and muscling Ennis around the ring. It was a quality win for Truax that could lead to something big in the near future. Below is a link to the full fight and a few National fight reports.
• Video: Truax vs Ennis, Full Fight Video
• Fightnews.com: Truax Dominates Ennis
WEIGHTS FROM CHICAGO
THURSDAY, JANUARY 24, 2014

Caleb Truax 163 vs. Derek Ennis 160

Photo courtesy of ESPN

Venue: UIC Pavilion, Chicago
Promoters: Seconds Out Promotions, Warriors Boxing, 8 Count Productions and Marines Promotions
TV: ESPN Friday Night Fights
Tickets: Priced at VIP $151, VIP Ringside $101, Mezzanine $51 and General Admission $31
TRUAX BACK ON ESPN THIS FRIDAY NIGHT
WEDNESDAY, JULY 23, 2014
WBA #15, IBF #13, and WBO #11-rated Caleb "Golden" Truax (23-1-2, 14 KOs) will face former USBA Champion Derek "Pooh" Ennis (24-4-1, 14 KO's) of Philadelphia, Pennsylvania this Friday night on ESPN2 Friday night fights.
"It's my job to beat who's in front of me and that's what I'll do this Friday night on ESPN."

Truax and his team have made some additions since his last bout. Joining him and trainer Tom Halstad is personal trainer and nutritionist Josh Hutton. Also, Truax recently signed with well known boxing manager Al Hayman, who will now take on co-managing duties along with Ron Lyke...
WEEKEND RESULTS - ALFARO DROPS CLOSE DECISION
MONDAY, JUNE 30, 2014
Minnesota State Jr. Featherweight champion Vicente Alfaro (6-4) lost what apeared to be a close and competitive bout to Stephon Young (10-0-1) last Friday night in an ESPN televised bout despite what the scorecards show. Most viewers believe the fight was close and ESPN's online voters had Alfaro ahead 5 rounds to 1 while commentator Teddy Atlas had Young ahead by a point. Official scores read 60-54, 60-56, and 59-55. Alfaro came forward landing jabs, hooks to the body, and over hand rights and also showed good defense and movement. Young was speedier while punching and moving. You can watch the fight for yourself below.

ALFARO FEATURED IN ESPN BOUT JUNE 27
SUNDAY, JUNE 22, 2014
Northfield's Vicente Alfaro (6-3) will face Stephon Young (9-0-1) on June 27 on ESPN in St. Charles, MO. A decorated amateur, Young is a crafty southpaw from Saint Louis, Missouri. So, Vicente and his trainer have been scouring the state for lefties and he has been getting some good sparring at his home away from home, the Circle of Discipline. Vicente has been unable to land a fight since his exciting title matchup with Brad Patraw on February 9th, 2013. In August of 2013, he was sparring, working a combination passed on from Mike Tyson, namely, right hook to the body-right uppercut to the head and he caught his thumb on the chin of his sparring mate. The injury required surgery and rehab but he says the thumb is strong now. Alfaro, who prefers to fight at 118, is very eager to get in the ring in his home state. He had a contract for a bout here in May but that matchup fell through at the last minute. Vicente said, "As a Minnesota champion I hope that someone steps forward to challenge me. I would love to fight before my fans here in Minnesota again. Love it. But for now I have to concentrate all my energies on defeating Stephon Young in his home town."
SANDS, RODRIGUEZ WIN STATE TITLE BOUTS -
FRIDAY, JUNE 13, 2014

Corey Rodriguez lands a right hand to Stephen Watt on Friday night in Mnpls.
Quick Results: Last night was a busy boxing night in Minnesota that saw Al Sands defend his MN State Cruiserweight title successfully against Harley Kilfian in Duluth, and Corey Rodriguez win the vacant MN State Super Welterweight title against Stephen Watt in Minneapolis, though neither win came easy.

Sands scored two big knockdowns (left hooks to the head of Kilfian) before being dropped hard himself in round five by multiple right hands to the head from Kilfian. Sands appeared to be in serious trouble but another left put Kilfian to the canvas just as the round was coming to an end. Good action continued into the eighth where at about the midway point of the round, Sands landed a body shot followed by another left that sent Kilfian down again. Kilfian made it to his feet but referee Scott Erickson waived the fight off at 1:44 of round 8.

Corey Rodriguez was in charge through most of his fight against Stephen Watt but Watt's toughness and tricky power punches made each round action packed. Watt came out fast, throwing bombs but Rodriguez stayed calm and defensively avoided most of the punches, which is a big strength of his under pressure. Watt powered forward with heavy punches while Rodriguez landed more cleanly through three rounds. Round four was dominant for Rodriguez as he rocked a tiring Watt around the ring. At some point, Watt injured his left arm in the round as he grimaced in pain and the injured arm was a problem for him for the remainder of the bout. Watt continued to try to fight back in the fifth despite Rodriguez landing at will. Rodriguez had Watt bleeding from the nose and a swelling cut eye in round 7 as he punished Watt with head and body punches. Watt showed tremendous heart in fighting back but Rodriguez kept the pressure on and the bout was stopped following the end of the seventh round.
More results from Minneapolis...
Robert Brant stopped Mickey Scarborough at 2:17 of the first round. Brant dropped Scarborough with a left hook to the head and twice with body shots.
Delorian Caraway dropped Ricky Smith with a left hook to the head and a barrage of punches ended the bout as referee Mark Nelson stopped the fight at :46 of round 1 giving Caraway his 3rd victory as a pro.
Van Goodman dropped James Roe twice before the fight was stopped at 2:44 of the first round.
Carl Deaton outboxed Starr Roberts over four rounds of action. Scores were 40-36 on all cards.
Rich Miller dropped Nick Whiting twice on his way to a second round stoppage win at 1:29 of the 2nd round.
More results from Duluth...
Markus Morris stopped Jeremy Marts in the second round of a jr. middleweight bout. Morris moves to 5-0 with the victory.

Al Sands lands a right hand to Harley Kilfian. Photo by Mark Walters
RODRIGUEZ PLANS TO BRING TITLE BACK TO FAMILY
FRIDAY, JUNE 13, 2014
Corey "Collateral Damage" Rodriguez (10-3-3) will battle Stephen Watt (3-2) for the vacant 154 pound MN state title tonight at the Muse Nightclub in Minneapolis, MN.
Rodriguez will be following in his uncles footsteps as both Rafael and Bobby Rodriguez fought for the state title multiple times throughout the 70's and 80's. Minnesota boxing hall of famer Rafael Rodriguez held the 154 pound title in 1974 after beating Minneapolis Irishman Mike Morgan and once again in 1981 after defeating Tyrone Wren. He then lost the final bout of his career to fellow MN Hall of Famer Gary Holmgren for the same title. Bobby Rodriguez fought Rick Folstad twice in 1977 for the State jr. welterweight title...
SANDS SET FOR KILFIAN REMATCH TONIGHT
FRIDAY, JUNE 13, 2014
By DuluthBoxing.com: On June 13th local Duluth Champion, Al "Haitian Temptation" Sands, opens a new chapter in his boxing career... defending one of his titles. This Friday Sands defends his Minnesota Cruiserweight Title which he captured in convincing fashion April 27 of last year by dispatching Lucas St Claire by 1st round KO. That night ended a one year campaign by Sands and his team to capture the State Title. Along the way Sands cleaned out the cruiserweight division by beating and challenging everyone in his path. In the heap of rubble left behind was Harley Kilfian who was rated #1 when Sands boxed him first and is #1 in the division today. Since their first meeting both have remained the most active cruiserweights in the MN Rankings which is why Kilfian is still #1 and Sands stands strong as Champ. One difference, though, is since winning the state title Sands has gone on to secure his position as a Main-Event fighter, a top 10 national ranking, and recently won the NABA-US Cruiserweight Championship making him one of the most accomplished boxers in the state...
WEIGHTS FROM MINNEAPOLIS, MN
THURSDAY, JUNE 12, 2014
Vacant MN State Jr. Middleweight Title Bout
Corey Rodriguez 153.2 lbs vs. Stephen Watt 153.4 lbs

Rob Brant 166.6 lbs vs. Mickey Scarborough 165

Delorien Caraway 146.6 vs. Rickey Smith 148.6

Van Goodman 301 vs. James Roe 208

Carl Deaton III 155 lbs vs. Starr Roberts 155.8

Nick Whitting 199.8 vs Rich Miller 200.2
Venue: The Muse in Minneapolis, MN
Promoter: Sterling Entertainment Group/Driller Promotions

WEIGHTS FROM DULUTH, MN
THURSDAY, JUNE 12, 2014
10-round MN State Cruiserweight Title Bout
Al Sands 200 lbs. vs Harley Kilfian: 191lbs.

Markus Morris 154 lbs. vs Jeremy Marts: 154.5 lbs.

Kou Lee 135 lbs vs Duarn Vue 134 lbs

Promoter: Jungle Boy Boxing
Venue: Grandma's Sports Garden, Duluth, MN
SANDS VS KILFIAN 2 THIS FRIDAY
MONDAY, JUNE 9, 2014
Al Sands and Harley Kilfian will battle again on June 13 at Grandma's Sports Garden in Duluth, MN. Both fighters rocked each other in the first fight until Sands took over with body shots before stopping Kilfian in round 4 when the met in 2012. The bout will be for Sands MN Cruiserweight title. Harley Kilfian interview can be seen here...
TRUAX RETURNS TO ESPN ON JULY 25
THURSDAY, JUNE 5, 2014
USBA Middleweight Champion and WBA #15, IBF #13, and WBO #11-rated Caleb "Golden" Truax (23-1-2, 14 KOs) of Osseo, Minnesota, will face Sonora, Mexico's Rogelio "Porky" Medina (32-6, 26 KOs) in a 10-round middleweight co-featured non-title fight on July 25th, 2014 at the UIC Pavillion in Chicago, Illinois. The bout will be featured on ESPN 2 Friday night fights.

"I can't wait to get back in action on ESPN" Truax told Minnesotaboxing.com. "Nothing beats fighting at home in Mpls, but fighting on the road in Chicago will present different challenges and I'll get to expand my fan base. Medina is a tough vet who brings it and I am working like this is a title fight. I will be in top form on July 25th and will represent Minnesota and #TeamTruax to the fullest!" For more...